Well, since I last posted, I have been to Birmingham, AL, and back and I am packing again today for a mission trip to Maryville, TN. Orientation at Samford was Monday and Tuesday and it was AMAZING!!! What a tease though!! I wish I could go ahead and move in! We spent the night in the dorms and I was fortunate enough to be able to room with the roommate I will have in the fall! I can already tell that we are going to have a good year together. There were many information sessions at orientation, some exciting...some not, but I also got to register for classes!!! I ended up getting everything I wanted! Wednesdays and Fridays I am done by 10:30!!! Everyday I have an 8 AM class, which isn't what most people would want, but when I get to Pharmacy school it will be the same. I mean, in high school I had the same thing, so why change now?! Now I have my afternoons to myself :) and my sewing!! Or schoolwork I suppose...
Anyways, I also wanted to catch up on posting pictures from the Instagram photo challenge. (( if you want to follow me...my username is @hduncan013 )) Here they are!! Sorry for how many there are...it's been a while.
Day 5: personalized mason jar (painted an "H")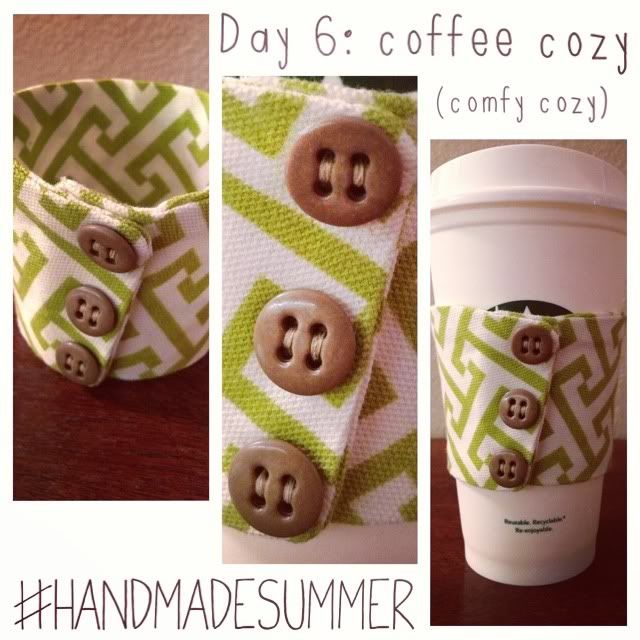 Day 6: Coffee Cozy!!! Be looking for these when I open my Etsy shop!! I just bought fabric for them and they are sooo cute!! I used a Starbucks coffee sleeve as a pattern.
Day 7: Paper Bag Skirt- probably my favorite thing that I have ever sewn!! I love how it turned out! Inspired by
Sew Caroline
:) I just added pockets and made it fuller. Great tutorial though!!
Day 8: Makeup pouch in SAMFORD colors!! Can't wait to get up there!!
Day 9: Knot Flip Flops also in Samford colors! (( can you tell I am excited?!? )) Tutorial from
The Mother Huddle
.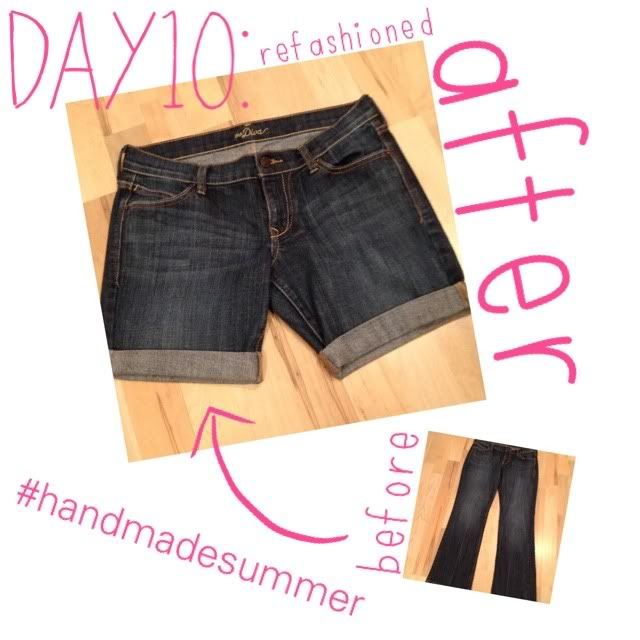 Day 10: Jeans to shorts!! Such an easy refashion :)
Day 11: Fold-over clutches :)
Day 12: Handwarmers (( even though it's summer )) Gotta get ready for seasons in Alabama so I better start preparing! Inspired by
Armommy
.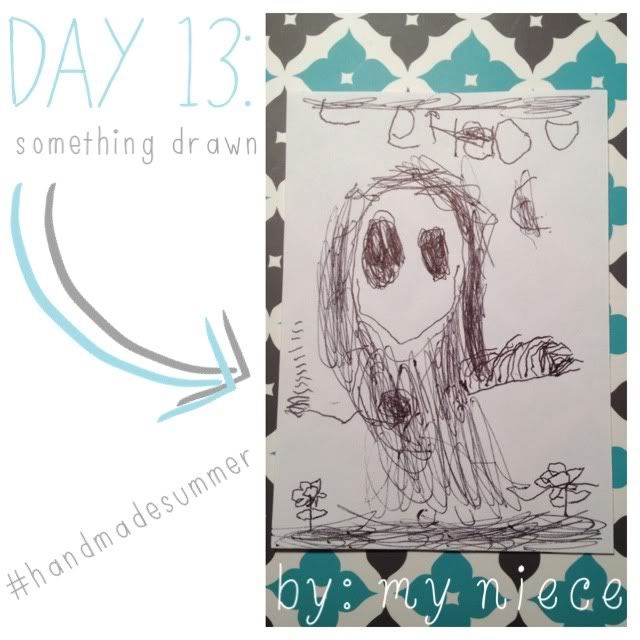 Day 13: Something Drawn...I CANNOT draw so I featured a drawing from my 4 year old niece :) I found it in my suitcase when I got home from visiting her!
Day 14: Washi Tape Storage (in your craft space) So easy and so cute and...once again in Samford colors :) Tutorial from
Design Sponge
.
Be back in a week from tomorrow!! Pray that God uses us in awesome ways in Maryville, TN!! Thanks guys!