Hey guys! Long time no see, right?! With all of my graduation craziness I haven't been able to post anything recently. Now I can officially say that I am a high school graduate!!! I still really can't believe it! Well, over the past week or so I have traveled with my class to Seattle, WA (photos to come soon!), I have graduated high school, and I began a photo-a-day challenge on Instagram through the blog
Sew Caroline
! This challenge includes all things creative, from sewing to gluing to other handmade things. If you want to follow me on Instagram my username is @hduncan013! I have already completed Day 1 through Day 4 so I will share those on here right now! It's not to late to join the challenge, just upload your pictures to Instagram and use the hashtag- #handmadesummer.
Here are the daily photo prompts :) Can't wait to work on some of these!
On DAY 1, I made some rosette earrings! They were super easy and quick to make and are a perfect way to use up little scrap pieces of fabric.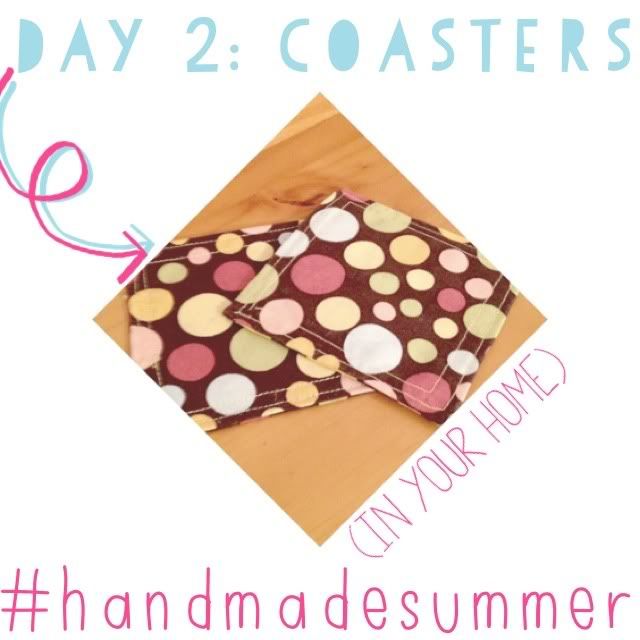 On DAY 2, I made some coasters to go in my room. My future roommate loved them so much that we are planning to make some coordinating ones to go in our dorm room :)
On DAY 3, I took a previously painted canvas and hot glued buttons in the shape of a "K" for a graduation gift for a friend of mine. While gluing the buttons down, one accidentally fell on my thumb and now I have a nice-sized blister there :( I really love how this one turned out! Inspired by Sew Caroline's post
HERE
.
DAY 4's Bows hold a special place in my heart. I began an organization, Bows for the Broken, about 2 years ago to raise money for impoverished children through
Compassion International
. Their mission is "Releasing children from poverty in Jesus' name." Over the summer, I will share more about my organization through
Fancy, Fun, and Free Me
's "Missional Mondays." Keep your eyes out for that! Also, check out our Facebook page
HERE
and message us if you want to purchase any bows!!